Group Therapy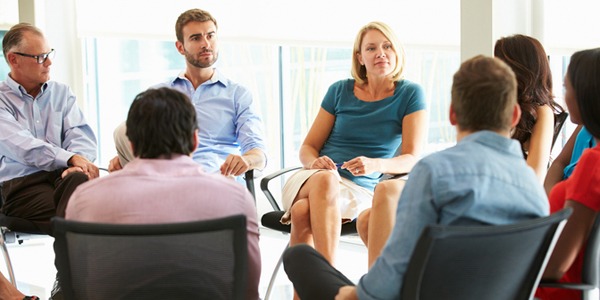 This process group is open to adults of all genders, races and ethnicities. The interview process will include a telephone screening and three individual sessions.
My theoretical orientation is present-time and mindfulness oriented, somatic and psychodynamically informed, and emphasizes relational and intersubjective processes.
There is no curriculum or fixed topics.  Discussions will focus on the emotional needs of the participants with an emphasis on dynamics among the group participants.
The group will meet on Wednesday evenings from 7:30-9:00 pm and is currently in formation.  We plan on our first meeting to be January 8, 2020.
Group Goals:
To support each participant to express their widest range of feelings and thoughts, and to explore their emotional experience with people inside and outside the group;

To actively engage problems, concerns and challenges that motivate group participation;

To put feelings into words, not actions, and express them skillfully to group members;

To receive and give feedback appropriately;

To enhance each participant's capacity to express empathy while honoring our own needs and experience.
Group Guidelines:
Regular and timely attendance at all sessions is expected. Members agree to be present each week, to arrive on time, and remain throughout the entire meeting. If you cannot attend a particular meeting, please leave a message for me by phone at 310-261-5618.

Members will treat matters that occur in the group with utmost confidentiality. What is discussed in the group should remain in the group. This insures a safe environment for all group members to express their thoughts and feelings.

Relationships. Members agree to use relationships made in the group therapeutically and not socially. There should be no contact among group members outside the group and if such contact should occur it should be brought back and shared in the group.

This is ongoing group. Participating in a group can be anxiety provoking. Please share any concerns you have about the group to make your needs known. 

Group Departures. If you plan to leave the group, please give at least one month for you and the other group members to process any feelings about leaving. Group members are emotionally and psychologically invested in each other and sudden departures can be very difficult. 

Group Distractions. Eating or audible devices are not permitted during the group.

Alcohol and Drugs. Please refrain from consumption of any alcohol or recreational drugs during the day the group meets.

Group Fees. Payment of fees is due at the beginning of each month and will be automatically charged regardless of attendance.