PACT: 
The Psychobiological Approach to Couple Therapy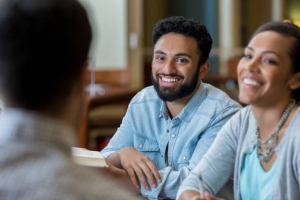 There are many approaches to working with couples.  I'm a level 2 trained PACT therapist.  I chose PACT because it is congruent with the fundamentals of trauma therapy, somatic psychology and mindfulness.  Safety and security, and the presence of mind for both partners is key.
PACT is grounded in contemporary neuroscience.  This highlights the physiological functioning of the brain as the biological underpinning for the relational dynamics of the couple.  This means that the couple's challenges and patterns are in large part due to their nervous systems' reactions to perceived threat. 
PACT focuses on maintaining safety for both partners as a primary task for protecting the couple.  The brains' default mode has a negative bias and is constantly engaged in assessing danger to predict safety.  PACT emphasizes the positive elements of safety and security rather than the deficits and hurts of the past.
PACT uses attachment theory as a lens through which to understand the patterns of reactivity.  If one partner tends to cling under stress and the other tends to withdraw, their most natural reactions will be perceived by the other as threatening.  Each partners' early relational hurts can be repaired within the relationship when these attachment dynamics are understood.
PACT uses our current understanding of trauma neurophysiology to recognize when a partner's brain is no longer in the present moment.  By supporting each partner to recognize when they are not feeling safe, they can learn to prioritize safety over fighting.
The following information is taken directly from the PACT Institute website with only minor edits.
Watch this video of Stan Tatkin, PsyD,
the creator of PACT therapy
and the founder of the PACT Institute.
PACT Therapy is Distinctive.
PACT therapy may appear different from other couple therapies.
PACT therapists focus on moment-to-moment shifts in your face, body, and voice, and ask you to pay close attention to these as a couple.
PACT therapists will create experiences similar to those troubling your relationship and help you work through them in real time during the session.
PACT therapists tend to get faster results than other forms of couple therapy.
PACT sessions often last as long as 3–6 hours. Longer times allow for the in-depth work of PACT.
PACT therapists often video record sessions to provide immediate feedback to you.
Use this link to visit the PACT institute website for more information about PACT and resources for couples.
Hits: 260